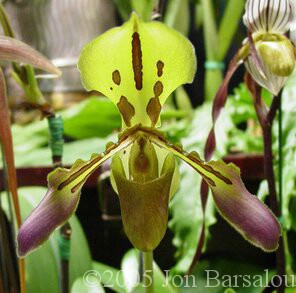 Paphiopedilum tigrinum Koopowitz & Hasegawa
Described: Koopowitz & Hasegawa in Orchid Advocate, 16(3): 76-79 (1990)
Etymology: Named for the stripes on the petals and sepals.
Varieties & Forms:
Paphiopedilum tigrinum fma. smarigdinum (Z.J. Liu & S.C. Chen in Journal of Wuhan Botanical Research 21(6): 489 (2003)) Gruss in Die Orchidee 56(1): 71 (2005) - albino form
Synonyms:
Paphiopedilum markianum Fowlie in Orchid Digest, 54(3): 124-127 (1990)
Chromosome Count -

| | | | |
| --- | --- | --- | --- |
| 2n = | metacentrics | telocentrics | n.f. |
| 26 | 26 | 0 | 52 |
Plant Habit
Leaves: 4-6, 16-23 cm long, 2-4 cm wide, above bright green, below pale green
Inflorescence: 1-flowered, 20-25 cm long, green, purple-spotted, glabrous
Habitat Data
Distribution - Gaoligong Mountains

Elevation: 1400-2000 m
Peak Flowering in the Wild: June-July
Ecology: epiphytic on trees or on north-facing rocky slopes
Mean Temperature Range: 8-20° C
Light: moderate shade
Medium: leaf litter, humus
Water (D-drier, M-moderate, W-wetter) -

| | | | | | | | | | | | | |
| --- | --- | --- | --- | --- | --- | --- | --- | --- | --- | --- | --- | --- |
| Month | Jan | Feb | Mar | Apr | May | Jun | Jul | Aug | Sep | Oct | Nov | Dec |
| Water | D | D | D | D | M | W | W | W | M | M | D | D |
Sources:
Braem, Guido J., and Guy Chiron. Paphiopedilum. Saint-Genis Laval, France: Tropicalia, 2003.
Cribb, Phillip J. The Genus Paphiopedilum. Kota Kinabalu, Malaysia: Natural History Publications in association with Royal Botanic Gardens, Kew, 1998.
Fowlie, J.A. "A New Species of Section Pardalopetalum, Epiphytic on Trees from Yunnan, Paphiopedilum markianum Fowl., Sp. Nov." Orchid Digest 54, no. 3 (July/Sept 1990): 124-27.
Gruss, O. "Albino Forms of the Slipper Orchids." Orchid Digest 69, no. 4 (Oct/Dec 2005): 204-29.
Karasawa, K., M. Aoyama, and T. Kamimura. Annals of the Tsukuba Botanical Garden 16 (1997): 29-39.
Primary Hybrids
| | |
| --- | --- |
| Paph. tigrinum x | Hybrid |
| bellatulum | Wössner Tigerbell |
| concolor | Wössner Concotiger |
| niveum | Elaine Law |
| charlesworthii | Charlie Tiger |
| fairrieanum | Bailey Kalina |
| henryanum | Wössner Tigerhenry |
| dayanum | Wössner Tigerday |
| sukhakulii | Wössner Tigerkuli |
| philippinense | Memoria Al Moreschi |
| rothschildianum | Geoffrey Hands |
| glaucophyllum | Xie Xie |
| primulinum | Wössner Tigerprim |
Return to the Data Sheets Page
Page Created By: Stephen Manza
Last Updated: 7-22-06
contact: silence882@gmail.com