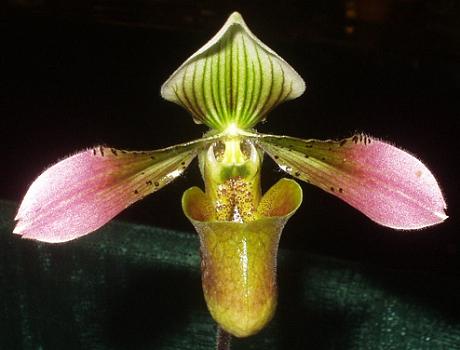 Paphiopedilum appletonianum (Gower) Rolfe
Described: Gower in The Garden, 1: 95 (1893)
Transferred: Rolfe in Orchid Review, 4: 364 (1896)
Etymology: Named for W.M. Appleton, who was first to flower the species in Europe.
Varieties & Forms:
Paphiopedilum appletonianum var. hainanense (Fowlie in Orchid Digest, 51(2): 69-70 (1987)) Braem, Baker & Baker in The Genus Paphiopedilum, 2: 295 (1999)
Paphiopedilum appletonianum fma. album (hort. ex Asher in Orchid Digest, 44: 227 (1980)) Gruss in Die Orchidee 51(6): 746 (2000) - albino form
Synonyms:
Paphiopedilum appletonianum fma. immaculatum Braem in Orchidees. Culture et Protection, 36: 35-38 (1998)
Paphiopedilum cerveranum Braem in Orchidees. Culture et Protection, 38: 28-30 (1999)
Cypripedium poyntzianum O'Brien in Gardener's Chronicle, 3rd series, 15: 36 (1894) and Orchid Review, 2: 54 (1894)
Cypripedium waltersianum Kraenzlin in Desbois, Cypripedium, Selenipedium, & Uropedium - Monographie, 477 (1898)
Cypripedium wolterianum Kraenzlin in Gardener's Chronicle, 3rd series, 17: 166 (1895)
Chromosome Count -

| | | | |
| --- | --- | --- | --- |
| 2n = | metacentrics | telocentrics | n.f. |
| 38 | 14 | 24 | 52 |
Plant Habit
Leaves: 6-8, 10-25 cm long, 2-5 cm wide, above green with obscure dark green mottling, below keeled with purple marks at the base
Inflorescence: 1- (rarely 2-) flowered, 15-50 cm long, purple, shortly pubescent
Bloom: 6-10 cm wide, staminode extremely variable, transversely elliptic
Habitat Data
Distribution -

Elevation: 700-2000 m.
Peak Flowering in the Wild: March-May
Ecology: wet forests on steep granite slopes or along damp river canyons near waterfalls
Mean Temperature Range: 8-19°C
Light: moderate shade
Medium: leaf litter, humus, occasionally found on mossy boulders and trees
Water (D-drier, M-moderate, W-wetter) -

| | | | | | | | | | | | | |
| --- | --- | --- | --- | --- | --- | --- | --- | --- | --- | --- | --- | --- |
| Month | Jan | Feb | Mar | Apr | May | Jun | Jul | Aug | Sep | Oct | Nov | Dec |
| Water | M | M | M | W | W | W | W | W | W | W | M | M |
Notes:
Paph. appletonianum is one of the most variable species in the genus. I recognize Paph. appletonianum var. hainanense as a separate taxon with some apprehension. Its more brightly colored bloom, boldly mottled leaves, and geographical isolation on Hainan Island seem sufficient for varietal rank.
Sources:
Averyanov, L. et al. Slipper Orchids of Vietnam. Portland, OR: Timber Press, 2003.
Atwood, J.T. Jr. "The Relationships of the Slipper Orchids (Subfamily Cypripedioideae, Orchidaceae)." Selbyana 7, no. 2/4 (Aug 1984): 129-247.
Braem, Guido J., and Guy Chiron. Paphiopedilum. Saint-Genis Laval, France: Tropicalia, 2003.
Cribb, Phillip J. The Genus Paphiopedilum. Kota Kinabalu, Malaysia: Natural History Publications in association with Royal Botanic Gardens, Kew, 1998.
Gruss, O. "Albino Forms of the Slipper Orchids." Orchid Digest 69, no. 4 (Oct/Dec 2005): 204-29.
Karasawa, K. "Karyomorphological Studies in Paphiopedilum, Orchidaceae." Bulletin of the Hiroshima Botanical Garden 2 (Mar 1979): 1979.
Primary Hybrids
| | |
| --- | --- |
| Paph. appletonianum x | Hybrid |
| concolor | Golden Delicious |
| fairrieanum | Twinkle |
| henryanum | Philippe Gabrion |
| insigne | Baptiste L'homme |
| spicerianum | Quirinus |
| acmodontum | Rosy Egret |
| barbatum | Westoniense |
| bullenianum | Pontianak |
| callosum | Siamense |
| curtisii | Marianne Briois |
| hookerae | Apres Midi |
| mastersianum | Apple-Master |
| sukhakulii | Nisqually |
| urbanianum | Aga'pe |
| venustum | Memoria Heinie Christ |
| wardii | Debbie Robinson |
| wolterianum | Phnom Penh |
| philippinense | Jean Francois Pastor |
| rothschildianum | Apple-Roths |
| chamberlainianum | Adams Apple |
| glaucophyllum | Mage |
| primulinum | Memoria Lucille Plank |
Primary Hybrids - Registered as Paph. wolterianum
| | |
| --- | --- |
| Paph. wolterianum x | Hybrid |
| bellatulum | Erdmann |
| concolor | Charisma |
| villosum | Talofa |
| appletonianum | Phnom Penh |
| argus | Al's Pal |
| sukhakulii | Jerry Buote |
| venustum | Shanti Gardens |
Return to the Data Sheets Page
Page Created By: Stephen Manza
Last Updated: 10-23-06
contact: silence882@gmail.com