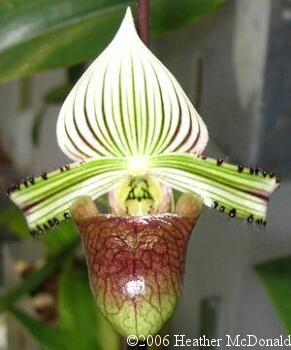 Paphiopedilum hennisianum (M.W. Wood) Fowlie
Described: M.W. Wood in Orchid Review, 84(1001): 352 (1976)
Transferred: Fowlie in Orchid Digest, 41(2): 60-61 (1977)
Etymology: Named for Kurt Hennis of Hildesheim, Germany, an avid orchid grower.
Varieties & Forms:
Paphiopedilum fma. christiansenii (Gruss & Roeth in Die Orchidee, 47(5): 234-236 (1996)) Gruss & Roeth in Caesiana, No. 12: 57-65 (1999) - albino form
Synonyms:
Paphiopedilum sugiyamanun Cavestro in Rhone - Alpes Orchidees, No. 27: 2-9 (2001)
Chromosome Count -

| | | | |
| --- | --- | --- | --- |
| 2n = | metacentrics | telocentrics | n.f. |
| 36 | 18 | 18 | 54 |
Plant Habit
Leaves: 4-6, up to 18 cm long, 4 cm wide, above mottled dark and light green, basal margins ciliate
Inflorescence: 1-flowered, up to 32 cm long, purple, pubescent
Bloom: 7-10 cm wide
Habitat Data
Distribution -

Elevation: 650-1050 m
Peak Flowering in the Wild: March-June
Ecology: forest floor
Mean Temperature Range: 20-23°C
Light: moderate shade
Medium: leaf litter, mosses, humus
Water (D-drier, M-moderate, W-wetter) -

| | | | | | | | | | | | | |
| --- | --- | --- | --- | --- | --- | --- | --- | --- | --- | --- | --- | --- |
| Month | Jan | Feb | Mar | Apr | May | Jun | Jul | Aug | Sep | Oct | Nov | Dec |
| Water | M | M | D | D | M | W | W | W | W | W | W | M |
Sources:
Atwood, J.T. Jr. "The Relationships of the Slipper Orchids (Subfamily Cypripedioideae, Orchidaceae)." Selbyana 7, no. 2/4 (Aug 1984): 129-247.
Braem, Guido J., and Guy Chiron. Paphiopedilum. Saint-Genis Laval, France: Tropicalia, 2003.
Cootes, Jim. The Orchids of the Philippines. Times Editions, 2001.
Cribb, Phillip J. The Genus Paphiopedilum. Kota Kinabalu, Malaysia: Natural History Publications in association with Royal Botanic Gardens, Kew, 1998.
Gruss, O. "Albino Forms of the Slipper Orchids." Orchid Digest 69, no. 4 (Oct/Dec 2005): 204-29.
Karasawa, K. "Karyomorphological Studies in Paphiopedilum, Orchidaceae." Bulletin of the Hiroshima Botanical Garden 2 (Mar 1979): 1979.
Primary Hybrids
| | |
| --- | --- |
| Paph hennisianum x | Hybrid |
| delenatii | Plastic Fantastic |
| micranthum | Small Island |
| niveum | Leo Pretty |
| charlesworthii | Georges Morel |
| hirsutissimum | Memoria Jack Aaronson |
| villosum | Kurt Erdmann |
| acmodontum | Kiwi Ingenuity |
| barbatum | Fritz Critter |
| callosum | Ozette Lake |
| ciliolare | Kennett Square |
| hookerae | Street Smart |
| mastersianum | Hawaii Wings |
| sukhakulii | Memoria Ada Perry |
| superbiens | Henny Penny |
| tonsum | Ponthieu |
| kolopakingii | Wössner Kolohennis |
| philippinense | Expansum |
| rothschildianum | Doctor Jack Fowlie |
| glaucophyllum | Rochester |
| liemianum | Kathy |
Return to the Data Sheets Page
Page Created By: Stephen Manza
Last Updated: 7-23-06
contact: silence882@gmail.com