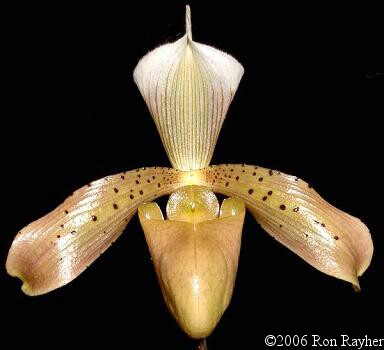 Paphiopedilum tonsum (Reichenbach fil.) Stein
Described: Reichenbach fil. in Gardener's Chronicle, 2nd series, 20: 262 (1883)
Transferred: Stein in Stein's Orchideenbuch, 488 (1892)
Etymology: Derived from the Latin tondeo, meaning shaven; named for the smooth hairless warts and floral parts.
Varieties & Forms:
Paphiopedilum tonsum var. braemii (H. Mohr in Orchideen, 51(6): 175-176 (1989)) Gruss in Caesiana, 3: 27 (1994) - smaller, greener variety
Paphiopedilum tonsum fma. alboviride Braem in Orchidees. Culture et Protection, 36: 35-38 (1998) - albino form
Synonyms: none
Chromosome Count -

| | | | |
| --- | --- | --- | --- |
| 2n = | metacentrics | telocentrics | n.f. |
| 32 | 20 | 12 | 52 |
Plant Habit
Leaves: 5-7, up to 20 cm long, 5 cm wide, above mottled green and dark green, below keeled
Inflorescence: 1-flowered, up to 35 cm long, green with dense purple spotting, shortly pubescent
Bloom: 10-14 cm wide
Habitat Data
Distribution -

Elevation: 1000-1800 m
Peak Flowering in the Wild: January-February
Ecology: on the forest floor or in the cracks of limestone and other rock
Mean Temperature Range: 18-20°C
Light: moderately deep shade
Medium: humus, leaf litter, sometimes calcareous
Water (D-drier, M-moderate, W-wetter) -

| | | | | | | | | | | | | |
| --- | --- | --- | --- | --- | --- | --- | --- | --- | --- | --- | --- | --- |
| Month | Jan | Feb | Mar | Apr | May | Jun | Jul | Aug | Sep | Oct | Nov | Dec |
| Water | M | D | M | W | W | M | D | M | W | W | W | W |
Sources:
Atwood, J.T. Jr. "The Relationships of the Slipper Orchids (Subfamily Cypripedioideae, Orchidaceae)." Selbyana 7, no. 2/4 (Aug 1984): 129-247.
Braem, Guido J., and Guy Chiron. Paphiopedilum. Saint-Genis Laval, France: Tropicalia, 2003.
Cribb, Phillip J. The Genus Paphiopedilum. Kota Kinabalu, Malaysia: Natural History Publications in association with Royal Botanic Gardens, Kew, 1998.
Fowlie, J.A. "Malaya Revisited XXVIII, Paphiopedilum liemianum and Paphiopedilum tonsum on a Limestone Ridge in Northern Sumatra." Orchid Digest 49, no. 3 (May/June 1985): 85-90.
Gruss, O. "Albino Forms of the Slipper Orchids." Orchid Digest 69, no. 4 (Oct/Dec 2005): 204-29.
Karasawa, K. "Karyomorphological Studies in Paphiopedilum, Orchidaceae." Bulletin of the Hiroshima Botanical Garden 2 (Mar 1979): 1979.
Primary Hybrids
| | |
| --- | --- |
| Paph. tonsum x | Hybrid |
| delenatii | Dorothy Newman |
| bellatulum | Hunteri |
| concolor | Conco-Tonsum |
| godefroyae | Moorei |
| niveum | Olivia |
| boxallii | Zeno |
| charlesworthii | Nellie |
| druryi | Franklin Pierce |
| exul | Margery |
| fairrieanum | Mrs. F. L. Ames |
| gratrixianum | Henri-Joachim Gosselin |
| insigne | Krishna |
| spicerianum | Madame Jules Hye |
| villosum | Theodore Bullier |
| acmodontum | Philippe Briois |
| argus | Iphis |
| barbatum | Rossianum |
| callosum | Felicity |
| ciliolare | Kiwi Magic |
| curtisii | Frankeanum |
| hennisianum | Ponthieu |
| lawrenceanum | Madame Barbey |
| mastersianum | Tantalus |
| sukhakulii | Tonsuk |
| superbiens | Tonso-Superbiens |
| urbanianum | LaVina Erdmann |
| venustum | Polyphemus |
| violascens | George Bernard Alexander |
| wardii | Bryce |
| lowii | Fern Canyon |
| philippinense | Bryan |
| rothschildianum | Solon |
| stonei | Rolling Stone |
| chamberlainianum | Muriel |
Return to the Data Sheets Page
Page Created By: Stephen Manza
Last Updated: 7-27-06
contact: silence882@gmail.com