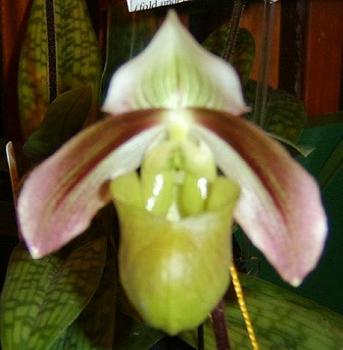 Paphiopedilum violascens Schlechter
Described: Schlechter in Die Orchidaceen von Deutsch-Neu-Guinea, in Fedde, Repertorium, Beihefte, 1: 2-3 (1911)
Etymology: Named for the violet color on the petals of the bloom.
Varieties & Forms: none
Synonyms:
Paphiopedilum violascens var. gautierense J.J. Smith in Nova Guinea, 12: 175 (1915)
Chromosome Count -

| | | | |
| --- | --- | --- | --- |
| 2n = | metacentrics | telocentrics | n.f. |
| 38 | 14 | 24 | 52 |
Plant Habit
Leaves: 4-6, 8-22 cm long, 2-4 cm wide, above mottled grey-green and dark green
Inflorescence: 1- (rarely 2-) flowered, 20-30 cm long, purple, pubescent
Bloom: 6-8 cm wide
Habitat Data
Distribution -

Elevation: 200-1200 m
Peak Flowering in the Wild: May-July, October-December
Ecology: found in a variety of habitats, including rivertine forests, rock crevices, and even on limestone outcrops
Mean Temperature Range: 20-22°C
Light: moderate shade
Medium: crumbled volcanic rock and plant debris; cracks of limestone outcrops in humus and acidic mosses; has been found growing in both ultrabasic and volcanic media
Water (D-drier, M-moderate, W-wetter) -

| | | | | | | | | | | | | |
| --- | --- | --- | --- | --- | --- | --- | --- | --- | --- | --- | --- | --- |
| Month | Jan | Feb | Mar | Apr | May | Jun | Jul | Aug | Sep | Oct | Nov | Dec |
| Water | W | W | W | W | W | W | M | M | M | W | W | W |
Sources:
Braem, Guido J., and Guy Chiron. Paphiopedilum. Saint-Genis Laval, France: Tropicalia, 2003.
Cribb, Phillip J. The Genus Paphiopedilum. Kota Kinabalu, Malaysia: Natural History Publications in association with Royal Botanic Gardens, Kew, 1998.
Karasawa, K. "Karyomorphological Studies in Paphiopedilum, Orchidaceae." Bulletin of the Hiroshima Botanical Garden 2 (Mar 1979): 1979.
Millar, Andree. Orchids of Papua New Guinea. Portland, OR: Timber Press, 1999.
Primary Hybrids
| | |
| --- | --- |
| Paph. violascens x | Hybrid |
| delenatii | Hugues Capet |
| bellatulum | Sandy's Brocade |
| concolor | Bob's Pride |
| niveum | Hamana Zae |
| fairrieanum | Milbury |
| insigne | Jean-Pierre Lepabic |
| spicerianum | Michiaki Myotoku |
| argus | Storm King |
| callosum | Olaf Gruss |
| ciliolare | Colibri |
| curtisii | Paradise Island |
| dayanum | Pauline Raiff |
| hookerae | Neeri-Viola |
| mastersianum | John Doherty |
| sukhakulii | Helen Milton |
| superbiens | Phillip Alexander |
| tonsum | George Bernard Alexander |
| venustum | Solomon Venus |
| virens | Karen Van Meter |
| philippinense | Saarperle |
| rothschildianum | Susan Salzman |
| chamberlainianum | South Pacific |
| glaucophyllum | Manabozho |
| primulinum | Sunrise Serenade |
Return to the Data Sheets Page
Page Created By: Stephen Manza
Last Updated: 7-27-06
contact: silence882@gmail.com