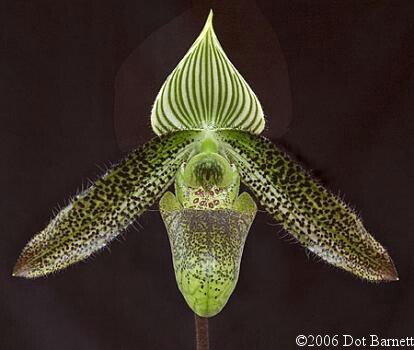 Paphiopedilum wardii Summerhayes
Described: Summerhayes in Gardener's Chronicle, 3rd series, 92: 446 (1932)
Etymology: Named for Frank Kingdom Ward, a British Army Captain that discovered the species in 1922.
Varieties & Forms:
Paphiopedilum wardii fma. alboviride (Gruss & Roeth in Die Orchidee, 49(3): 141-143 (1998)) Braem in Orchidees. Culture et Protection, No. 36: 35-38 (1998)
Synonyms: none
Chromosome Count - from Karasawa (1986), as Paph. x wardii, concludes Paph. wardii is a natural hybrid between Paph. sukhakulii and Paph. venustum:

| | | | |
| --- | --- | --- | --- |
| 2n = | metacentrics | telocentrics | n.f. |
| 41 | 12 | 29 | 53 |

Chromosome Count - from Atwood (1984):

| | | | |
| --- | --- | --- | --- |
| 2n = | metacentrics | telocentrics | n.f. |
| 44 | - | - | - |
Plant Habit
Leaves: 3-5, up to 17 cm long, 5-6 cm wide, above mottled blue-green and pale green, below purple-spotted
Inflorescence: 1-flowered, 20-45 cm long, purple, densely pubescent
Bloom: 8-13 cm wide
Habitat Data
Distribution -

Elevation: 1200-1500 m
Peak Flowering in the Wild: ?
Ecology: forest floor at the base of trees, sometimes on mossy cliff faces
Mean Temperature Range: 12-22°C
Light: light shade
Medium: deep leaf litter, mosses
Water (D-drier, M-moderate, W-wetter) -

| | | | | | | | | | | | | |
| --- | --- | --- | --- | --- | --- | --- | --- | --- | --- | --- | --- | --- |
| Month | Jan | Feb | Mar | Apr | May | Jun | Jul | Aug | Sep | Oct | Nov | Dec |
| Water | D | D | D | D | M | W | W | W | W | M | D | D |
Sources:
Atwood, J.T. Jr. "The Relationships of the Slipper Orchids (Subfamily Cypripedioideae, Orchidaceae)." Selbyana 7, no. 2/4 (Aug 1984): 129-247.
Braem, Guido J., and Guy Chiron. Paphiopedilum. Saint-Genis Laval, France: Tropicalia, 2003.
Cribb, Phillip J. The Genus Paphiopedilum. Kota Kinabalu, Malaysia: Natural History Publications in association with Royal Botanic Gardens, Kew, 1998.
Gruss, O. "Albino Forms of the Slipper Orchids." Orchid Digest 69, no. 4 (Oct/Dec 2005): 204-29.
Karasawa, K. "Karyomorphological Studies on Nine Species of Paphiopedilum." Bulletin of the Hiroshima Botanical Garden 8 (1986): 23-42.
Primary Hybrids
| | |
| --- | --- |
| Paph. wardii x | Hybrid |
| delenatii | Tim VanRooy |
| bellatulum | Black Jaguar |
| concolor | Morse Horse |
| druryi | Roch Jolibois |
| fairrieanum | Julia Bell |
| gratrixianum | Jenny Rhode |
| henryanum | Aleksandra Szlachetko |
| villosum | Shutdown |
| appletonianum | Debbie Robinson |
| argus | Darth Vader |
| barbatum | Pleasantry |
| bullenianum | David Makana Quarles |
| callosum | Pierre Bertaux |
| dayanum | Diana Ward |
| javanicum | Borobudur |
| lawrenceanum | Starry Sky |
| purpuratum | Dale Edward Lawless |
| sukhakulii | Saiun |
| superbiens | Thank Frank |
| tonsum | Bryce |
| venustum | Varuna |
| virens | Ovidius |
| adductum | Wössner Braunbär |
| lowii | Aaron Poock |
| philippinense | Happy Philipin |
| rothschildianum | Garnet Crown |
| glaucophyllum | Carol |
| primulinum | Quissett |
Return to the Data Sheets Page
Page Created By: Stephen Manza
Last Updated: 7-28-06
contact: silence882@gmail.com